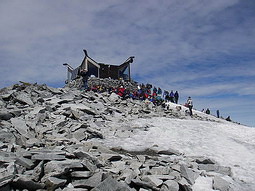 Jotunheimen 2006
When Tilltopps celebrated it's 10-year anniversary the goal was given. A variant of the hike in 1996 with some new routes and well known peaks. All this in sunshine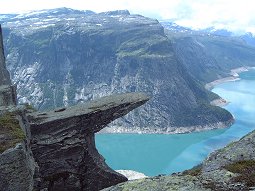 Folgefonna 2003
This year we visited Trolltunga in western parts of Hardangervidda and the glacier Folgefonna.

Guide to Jotunheimen
We strongly recommend that you take a closer look of our guide to Jotunheimen. Here you'll find most of the routes in the national park with descriptions and our personal comments.
Postcard
You must send an electronic postcard from Till Topps to someone you know. It's quite easy and you can choose any picture you like from our travel stories.

Travel stories
Right now you can read our stories about the hikes we have done since 1996 and of course take a look at the pictures. From this section you also reach the guide to Jotunheimen and the postcard function.
Questions & answers
Is there anything you would like to know about hiking? Just read this page with questions from our readers and answers from us. If you are lucky you might find what you are looking for.

Glacier technic
Glacier hiking gives you a new dimension of your outdoor activities. But before you explore the ice read our introduction to the glacier world. Here you'll find a lot about equipment, knots and security.
Cooking course
We will teach you how to make dried forcemeat sauce. Just read our step by step course and try it yourself. According to other people it's a great success.

Equipment
Every time when our hike starts, questions like this comes up: Who took the tent and the camera? You don't have to worry anymore, just read our equipment pages and have a look at the checklists.