Welcome to our guestbook. Here you can read other users point of view and questions from our readers. If you like, you to can write a message in our guestbook, using the button below.

This guestbook is for hiking only. Contributions of political nature or for products/services that doesn't belong here will be deleted without no further notice.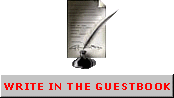 2001-05-22 at 19:34
Betyg: t t t t t
At the pen: Johanna

2001-05-12 at 01:58
En utmärkt sida, den kommer jag att ha mycket nytt av när jag ska tillbaks till Jotunheimen i sommar. Fler naturbilder på sidan skulle uppskattas! //Andreas
At the pen: Andreas

2001-04-19 at 16:46
En bra sida.
En av de bättre jag har hittat på nätet.
Fortsätt att förnya sidan med nya repotage och varför inte ha en länk så att andra kan lägga upp sina äventyrs bilder på.
Mvh Anders Stenvall
At the pen: Anders

2001-04-18 at 18:36
Hej på er !

En kanonsida ni har på nätet.

Kommer tillbaks med mer till er.

At the pen: Fjällguiden

2001-04-15 at 11:39
Kanonbra sida, med intressant läsning om era resor. Kul och nyttigt med alla era tips och dessutom snyggt upplägg och lätt att leta sig fram till det man vill läsa om.
Ska själv på en tur i sommar; Abisko-Hemavan och har erfarenhet sen tidigare, men hittar ändå små guldkorn på er sida som jag kan använda mig av.
At the pen: Åse

2000-11-11 at 12:10
Mycket fin och trevlig sida.Har själv besökt flera av dom Norska platserna i era reseberättelser.Sidan kommer att bli till hjälp vid kommande resor.
At the pen: Håkan Önnberg

2000-10-11 at 02:12
This is a great page. I lived in Sweden several years ago. These photos bring back great memories. Keep sharing the adventure! Lycka till.
At the pen: Daela

2000-08-12 at 21:11
God hjemmeside.søger noget om at vandre i østfrankrig. Det hedder vist massif de Ekrens.
At the pen: arne keidser-nilsson

2000-08-07 at 18:41
Hi, Bert i was here it is faboulos, really!
At the pen: Martin Lachner

2000-08-02 at 16:14
Herlige bilder og fantastisk hjemmeside!!!
Jeg er for tiden på jobb ute i Nordsjøen, men har allikevel "vandret i fjellene" de siste timene.
Takk for turen!
At the pen: Øyvind Heen

<<
1
2
3
4
5
6
7
8
9
10
11
12
13
14
15
16
17
18
19
20
21
22
23
24
>>