Welcome to our guestbook. Here you can read other users point of view and questions from our readers. If you like, you to can write a message in our guestbook, using the button below.

This guestbook is for hiking only. Contributions of political nature or for products/services that doesn't belong here will be deleted without no further notice.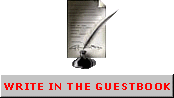 2000-07-05 at 14:18
Flott side!
Likte veldig godt reisebeskrivelsene som var passelig lange, og fine bilder.
At the pen: Knut Eirik

2000-07-04 at 13:27
Det är jätte HÄRLIGA BILDER!
At the pen: Daniel

2000-07-02 at 22:28
Härliga bilder&tuff hemsida.
Känner för att vandra i höst..
Vi kanske ses!
Kram.
At the pen: Lumpare

2000-06-26 at 20:25
Mycket bra sida!!!
Inspirerande och lärorik.
MVH/ ÅSA
At the pen: Åsa Christensen

2000-06-14 at 12:30
Toppen igen. Det här ger mersmak. Jotunheimen nästa ! Ska tipsa resten av fjällfolket i Friluftsfrämjandet i Mora.
At the pen: Björn H

2000-06-08 at 14:50
Mycket snygg och innehållsrik hemsida!

MVH /Fredrik
At the pen: Fredrik Ringström

2000-06-07 at 20:38
Lite känning i vaden. Har ni några tips om åtgärder? Kanske lite info om vanliga skador inom branschen skulle vara på sin plats på hemsidan. Då hade jag bara kunnat gå in och söka på "vad" och få fram lämpliga kurer. Ingen dum idé alls måste jag säga.
At the pen: Brother P

2000-05-22 at 19:48
Underbar sida, gör mig sugen på att traska lite i skogen.
Kanon!
At the pen: Jakob

2000-04-16 at 23:56
Förbannat bra sida. den blir till stor hjälp!
At the pen: Magnus

2000-04-05 at 13:23
Her var det både matnyttig info, samt fine bilder og fortellinger. Gøy å se bilder fra Nordmarka, der jeg selv vært både på fiske- og mosjonsturer.
Vi var en gjeng som hade mandagsmøten ved Sognsvann, så gikk vi i mørkret med ficklampor till Ullevålseter fram og tilbake.

Men, som sagdt var; fin side. Fortsett med den.

Hilsen fra Oslo,
Anders Gilljam.
At the pen: Anders Gilljam

<<
1
2
3
4
5
6
7
8
9
10
11
12
13
14
15
16
17
18
19
20
21
22
>>