Welcome to our guestbook. Here you can read other users point of view and questions from our readers. If you like, you to can write a message in our guestbook, using the button below.

This guestbook is for hiking only. Contributions of political nature or for products/services that doesn't belong here will be deleted without no further notice.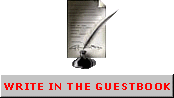 2007-07-28 at 09:17
Hej!
Vi är 4 "gubbar" med ungdomliga sinnen som åker på mc-semester vecka 32. Vi siktar på att bo i hytter så mycket som möjligt, annars billiga hotell, (om det finns...) Ska man ha med sej sängkläder/sovsäck när man bor i hytter??
Vi kommer söderifrån och tänkte antingen köra sydkusten och Vestlandet och upp mot Ålesund för en tur på Trollstigen. eller så kör vi inlandet till Ålesund osv. Synpunkter och tips tar vi gärna emot!!
At the pen: Sten

2007-07-26 at 13:33
Bra och genomtänkt sida! Kul..
Jag skulle behöva lite ledtips då jag och två vänner ska upp till fjällen under två veckor.
Vi startar i Abisko och slutar i Nikkaloukta. Denna sträcka brukar ta oss i lungt tempo ca en vecka, men nu ska vi vara uppe i två och behöver då utöka milen för att hela tiden ha ett mål för dagen.
Vi brukar göra dagsetapper på närmare 1,5-2 mil lite beroende på höjdstigningar mm. Har funderat lite på att kombinera Nordkalottleden och Kungsleden men inte hittat något bra alternativ ännu. Det ska väl tillägas att vi tältar under hela turen.
Tacksam för svar // Micke.
At the pen: Micke

2007-07-08 at 23:23
Hejsan!


... v31 far vi till Vågå i Jotunheim. För första gången ska jag vandra i "fjällen" (bergen) närmare bestämt Glittertind å några till. Denna sidan gör mig ännu mer motiverad! Tack ska ni ha för en bra hemsida.



/jeppe
At the pen: Jesper

2007-07-05 at 22:34
Riktigt bra sida! Precis den inspiration vi behövde. Tack!
At the pen: Göran

2007-07-03 at 21:39
Nice internetsite guys!! We have a similair one, unfortunately only available in Dutch:
http://home.wanadoo.nl/sillywalktour/
We are going to Jotunheimen early September. Your site will help us a little bit.

Many thanks,

Robin Knook
Netherlands
At the pen: Robin Knook

2007-06-26 at 14:54
Hej! Stort plus för en intressant och inspirerande hemsida, den bästa "nya" jag sett på länge! Låter trevligt att vandra i Jotunheimen, kanske något för nästa år. I år tänkte jag vandra lite i Narviksfjällev dvs börja vid Riksgränsen och sedan återvända till Abisko via Abiskofjällen. Jag har läst att man måste lösa ut nyckel om man vill bo i norske hytter, måste man då gå med i norska turistföreningen eller hur fungerar det?. Jag har tänkt bo i stugor på norska sidan ca 3-4 stycken.
Hälsningar Eva
At the pen: Eva olsson

2007-05-14 at 09:26
Mycket, mycket välgjord och inspirerande sida!
At the pen: Per

2007-04-25 at 15:37
We are going to Jotenheimen for 4 days. 3 guys, well trained.
We arrive at Gjende saturday in the very early morning. We'll try to hike as far as we can. Equipped with Garmin and maps from this site, it will be a blast.
Greetz.
At the pen: Mark Deraeve

2007-04-13 at 14:09
www.coronn.com now cover more than 80 rock climbing areas in Europe, providing general information about the area, hundreds of pictures, topographies, maps to find your way to the crag. Find the links that take you to the web sites for to rent a car, buy a flight ticket or for to find a camp ground.
Euro 8.50 for more than 1000 pages (as pdf-file) of topographies and maps covering more than 20.000 climbing routes and boulder problems.
Take a look at climbing pictures or download free wallpapers and screensavers.
Now also Scrambling Topos for Argentera (3297 m) and Monte Viso (3841 m), pictures and wallpapers from Monte Bianco, Grand Paradiso, Dru, Dente del Gigante.

Don't forget, You can download a pdf-file from your computer to your cell-phone or PDA.

Take a look and get tempted; www.piemonte.coronn.com Alpi Marittime, Italy
At the pen: mikael larson

2007-01-07 at 00:02
Hej där!

Ville bara säga att er hemsida är en helt fantastisk källa till inspiration och bra tips! Jag och en kompis skall upp till Jotunheimen sommaren 2007; har ni några bra tips på rutter (vi har viss vana från tidigare) för ca 7-8 dagars vandring (ca 15-20 km känns rimligt per dag)?

Tack!

Hälsningar,

Björn
At the pen: Björn

<<
1
2
3
4
5
6
7
8
9
10
11
12
13
14
15
16
17
18
19
20
21
22
>>